Meet a doctor and you will know how to avoid jargon.
No one wants to know how intellectual you are. Your writing should influence, convince, and sell the product.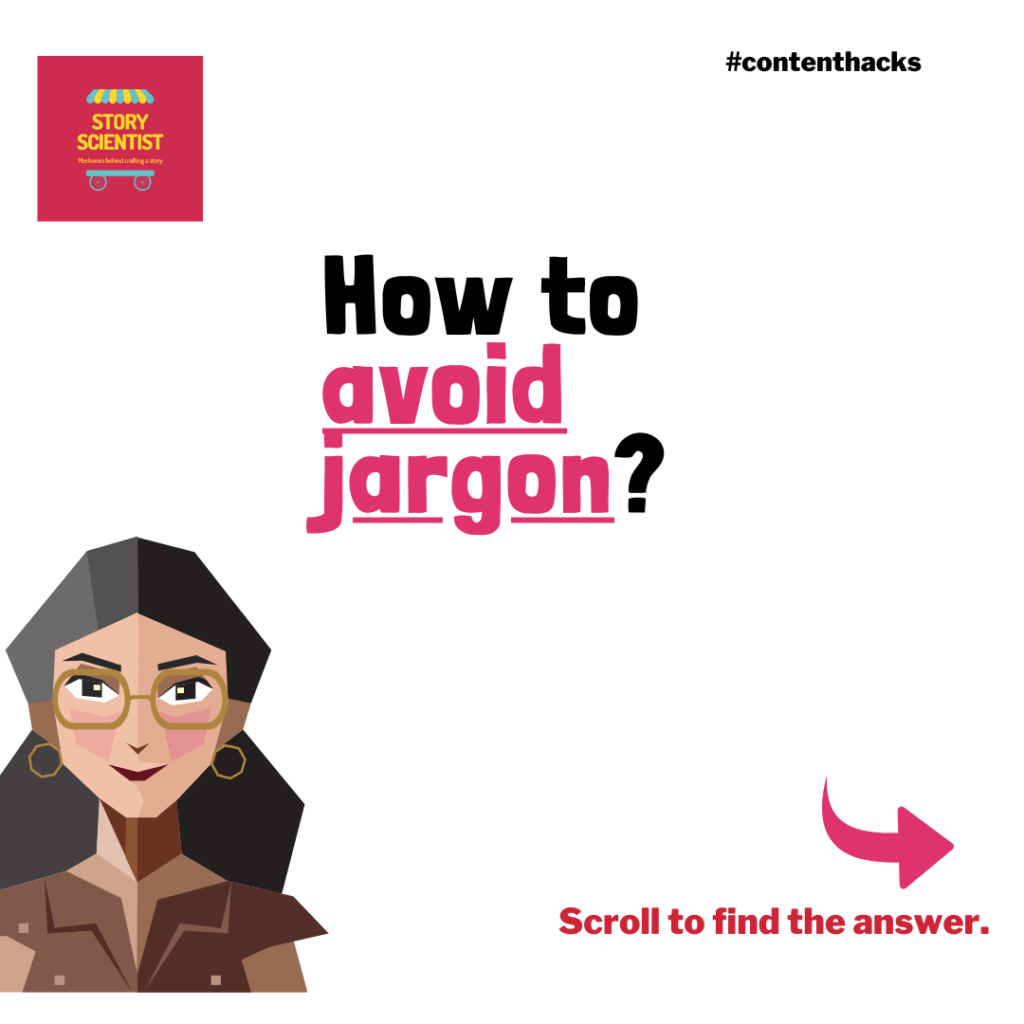 So, what is jargon?
What is Jargon?
A group of words that are relished by a group of people and are colloquially used by such a tribe is jargon. These words seem non-existent and many people outside a tribe find it difficult to add them to a conversion. It is hard to interpret.
Jargon in the middle of a conversation slows the speed of comprehension for the audience.
7 content hacks to avoid jargon
Here are seven ways in which you can avoid jargon. If you cater some time for deliberate writing practice, then it is even better to implement any one of them consciously. Another opportunity for you to practice 'avoiding jargon' is while editing your articles.
If you received feedback that you should avoid complex words or any kind of jargon, that means you are far away from quick content consumption. Jargon-heavy writing will have a high rate of bounce backs and page abandonment.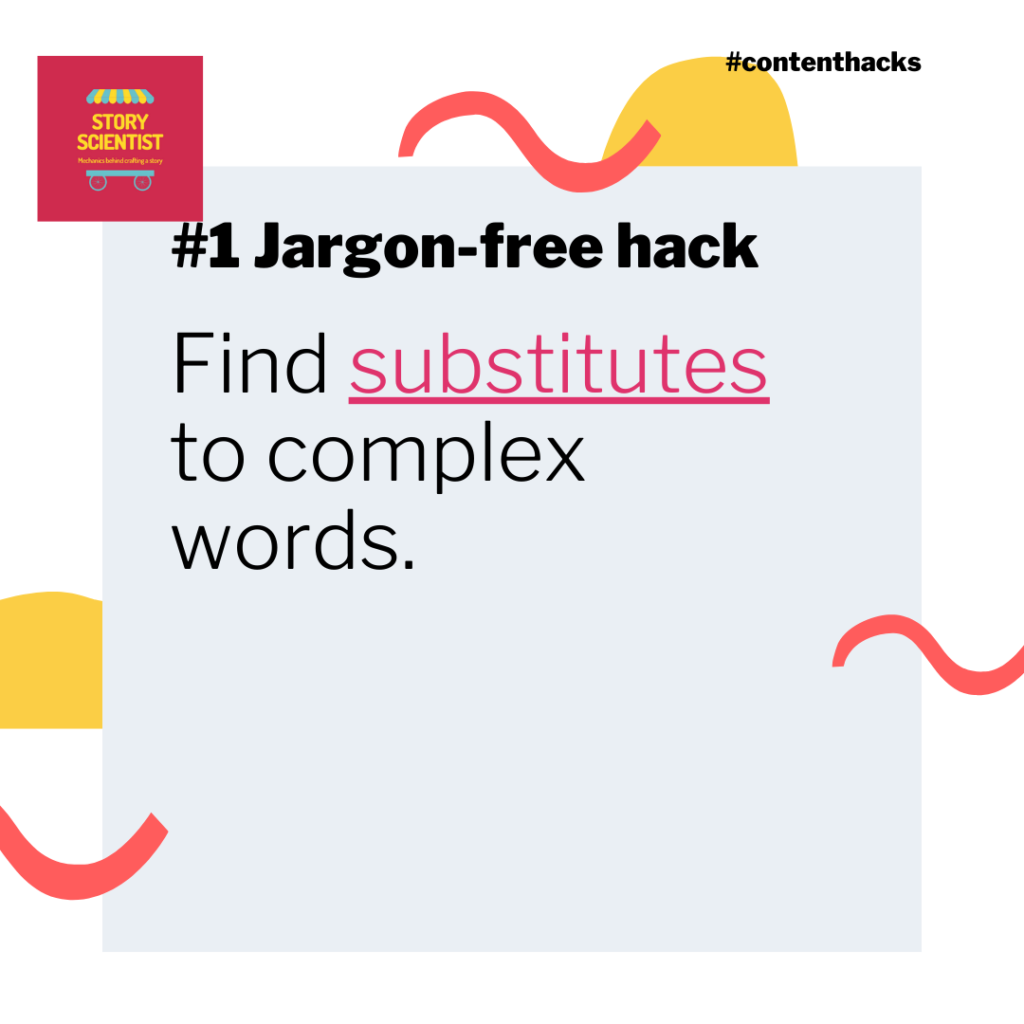 #1 Jargon-free hack: Find substitutes
Obscure vs unclear. Trepidation vs fear.
The examples are endless. Complexity is associated with the context. Words like obscure and trepidation could be appropriate words for a certain context. But, most times you can do away with the simpler options.
Exception: When you are addressing a specific cohort, jargon seems colloquial. These words together, formulate the vocabulary of a specific group of people.
#2 Jargon-free hack: Use analogies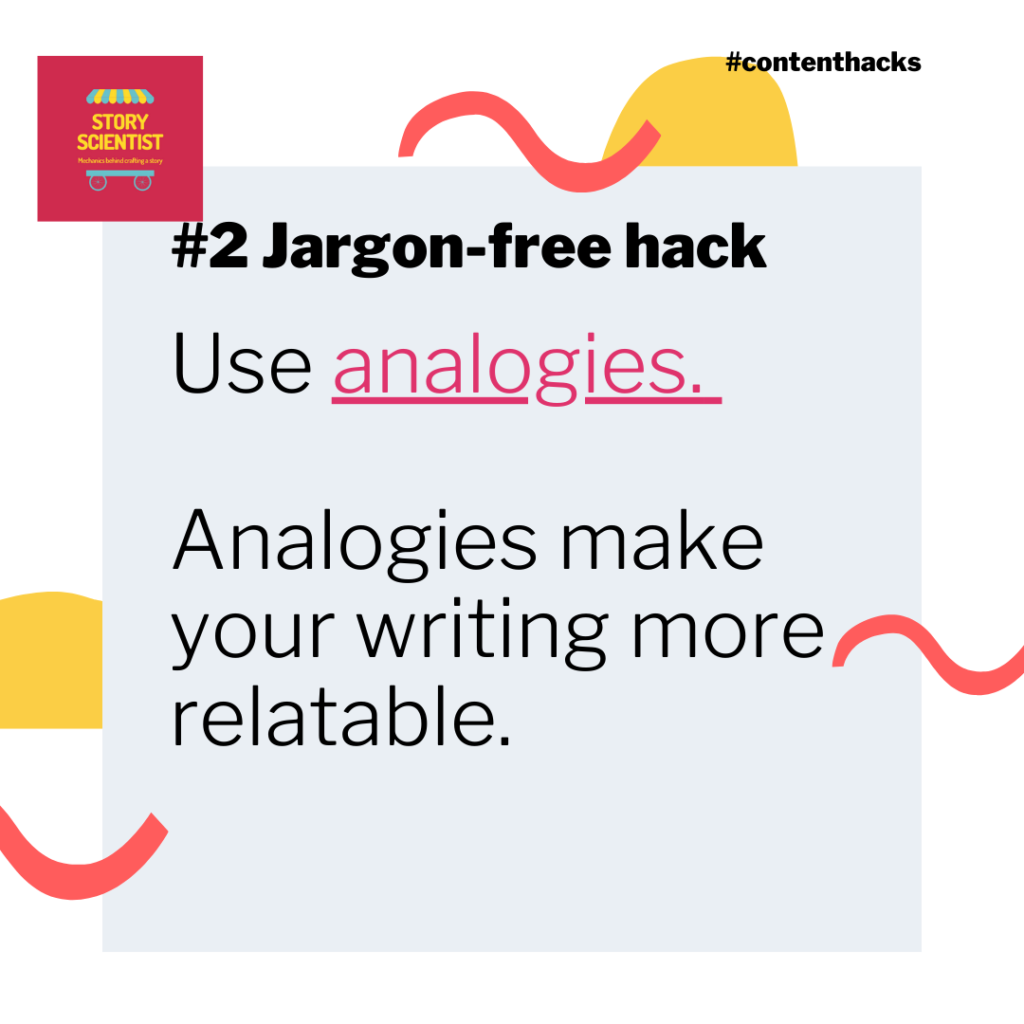 Using a jargon while equating it to something more relatable helps in deafeating the complexity. Camouflage = Chameleon.
It need not be a word always. Analogies could also be using events, processes, and other nouns to compare.
#3 Jargon-free hack: Use anecdotes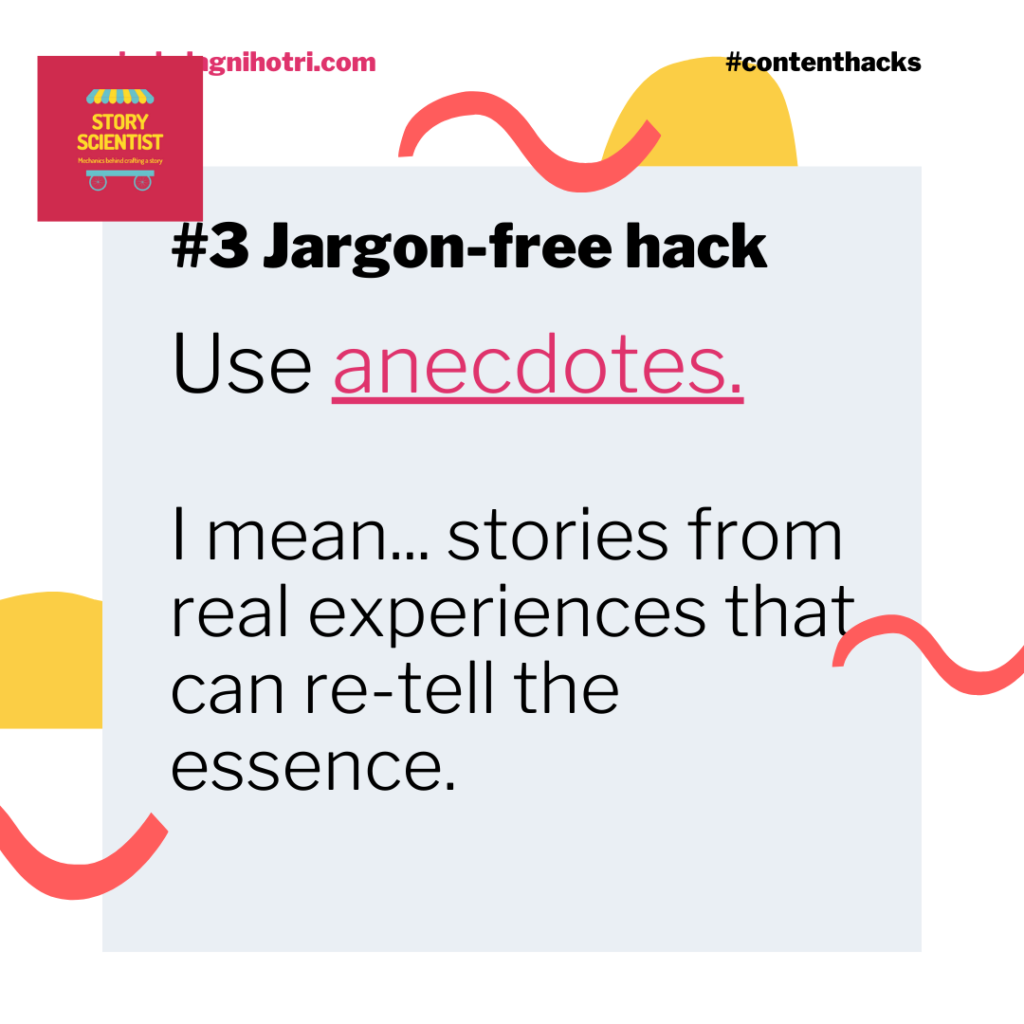 Stories always come in handy. While explaining jargon, use an experience from the past or a real-life story of a famous person to describe the word. In the book 'Hit Refresh' Satya Nadella used multiple personal life stories to explain what empathy means. It's not just this one book. There are many essays and books that use this technique.
#4 Jargon-free hack: Fictitious Examples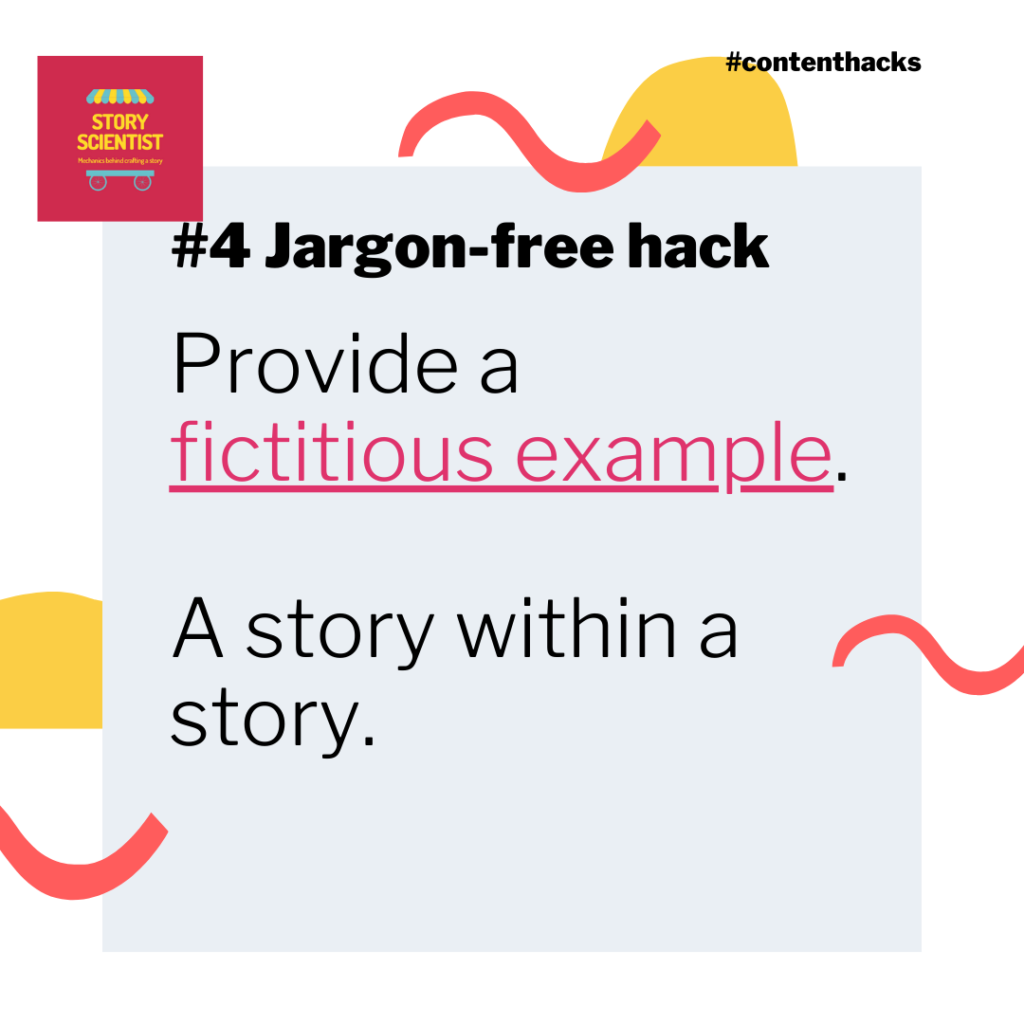 Fictitious stories need some imagination. If you are involved in persona building and creating customer experience from scratch, you would have already experienced fiction work. Think of possibilities to explain branded terminologies and add them to stories.
#5 Jargon-free hack: Shorter sentences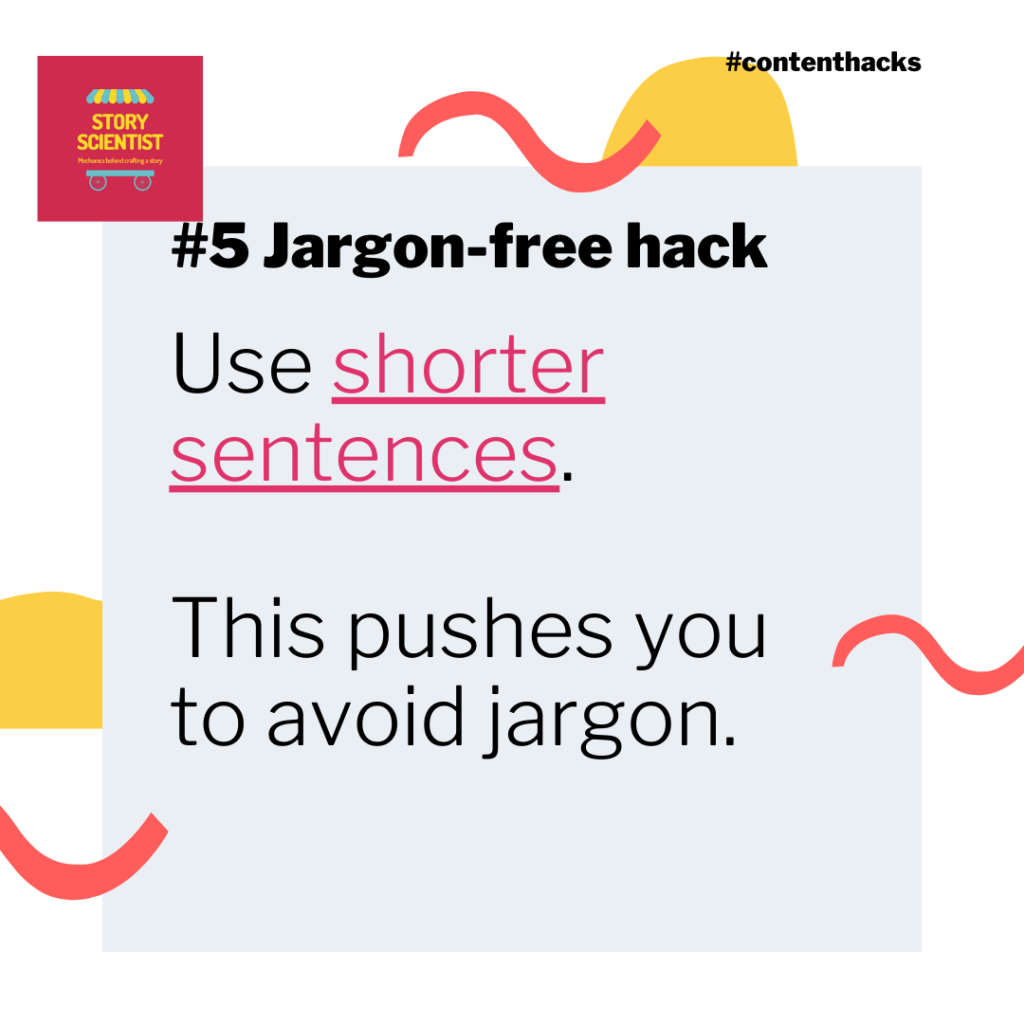 A Three-word sentence is a famous writer's hack to deliver a message with clarity. Jargon not only complicates a reader's comprehension, but it also can confuse the writer. Writers need to break one's thought into shorter sentences which compels to create a clear message despite using a jargon in the middle of a statement.
#6 Jargon-free hack: Use visuals
When words fail you for any reason, don't hesitate to aid your description with a diagram or an illustration. Flow charts and cartoons are a few other visual tools that explain jargon better.
Check out the article that explains how visual design can aid writers.
#7 Jargon-free hack: Explain and Describe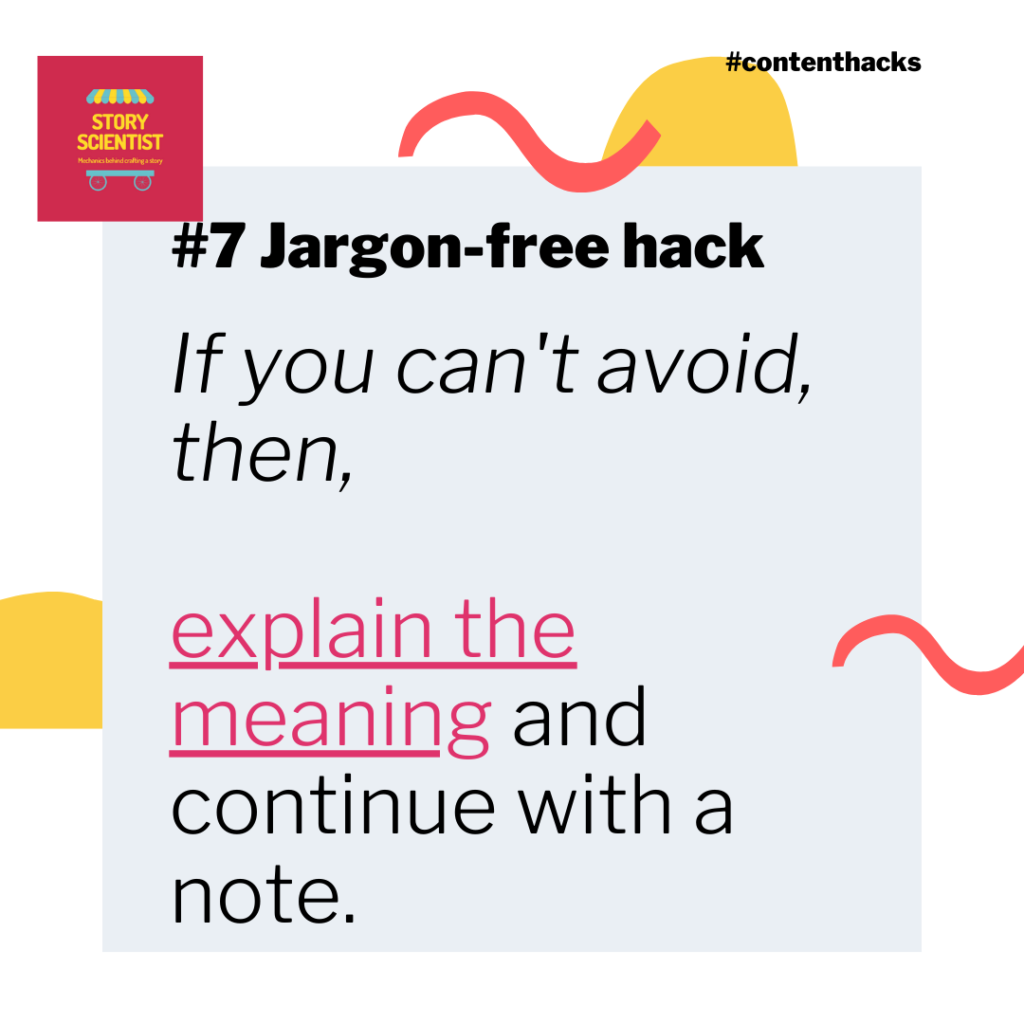 This is the last and low hanging solution. Just use the term in your sentence and give a long explanation to ensure your audience understand what you are expressing. Parentheses (brackets) is another handy punctuation that will let you use complex words in their original form.
How to avoid jargon while writing content? Summarizing the article
Find substitutes

Just another word that suits the jargon.

Use Analogies

Compare the complex words with something more relatable.

Use Anecdotes

Stories from real experiences that can re-tell the essence.

Use fictitious examples

Imagination in building personas and thinking behind creating a customer experience.

Use shorter sentences

Three-word sentences is the trick.

Take aid of visuals

Diagrams, illustrations, flow charts and cartoons.

Explain or define the jargon

Parentheses (brackets) is another handy punctuation that will let you use complex words in their original form.